Maintenance : support & service network for BWTS
A global support & service network
Ballast water treatment systems are critical to compliant and efficient ship operation. If you are not operating a reliable, proven BWTS, your ship could face delays, downtime, and financial penalties.
Our service teams ensure our customers benefit from

Increased safety and equipment reliability

Reduced operating and maintenance costs

Compliance with regulatory requirements

Longer equipment lifetime

A more confident and competent ballasting operation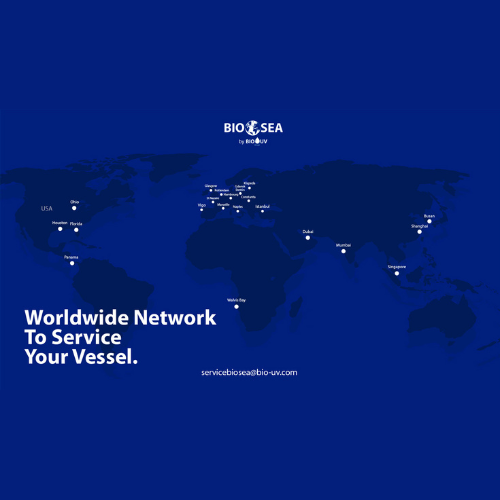 A worldwide network
To ensure a BIO-SEA BWTS continually delivers the optimum performance, we have fully trained service agents at the key maritime hubs thorughout Europe, the Americas, the Middle East and Asia. Our team of skilled and experienced trouble-shooters are trained and equipped to solve any BWTS issues on site or remotely, to help you get the best possible performance from your BIO-SEA system.
In collaboration with our global network of service partners, our BIO-SEA Service & Spares Programme ensures any BWTS maintenance requirement is carried out swiftly and cost effectively, with minimum disruption to vessel operations. We maintain stock inventory at all our service centres, so most components are delivered within 14 days to a destination of your choice. Maintenance can be carried out by onboard crews, or in cooperation with BIO-SEA service technicians around the globe.
Ballast Water Treatment Services
BIO-SEA by BIO-UV Group provides complete turnkey ballast water treament solutions from the onboard survey through to onboard installation and commissioning.